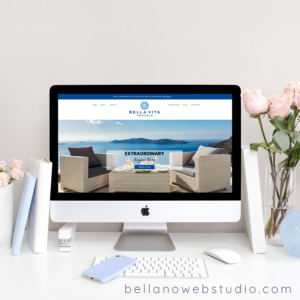 The Complete Professional Solution is for creative entrepreneurs, bloggers, and small businesses and who are ready to level up their business. You want more assistance with content organization and you would prefer to provide your content rather than add it yourself. You want or need special features or additional templates. Most of all you want a professional to oversee the entire design and development process so you can focus on your creative genius and your business. You don't have time to DIY and you need someone to handle all the details and manage the entire process.
You need Bellano Web Studio to be your partner and to collaborate with you. You need a designer/developer you can trust to have your back and make sure everything goes smoothly during development, through your launch, and after your site is live.
The Complete Professional Solution is perfect for creative entrepreneurs, start-up or small businesses and bloggers who are ready to turn their passion into a business.
What's Included:
Design plan worksheet
Essential/recommended plugins & widgets
Installation of Genesis Framework
Social media integration
Email list integration
Basic SEO setup
WordPress tutorials in your dashboard
3 weeks of support after launch
Theme:
Custom homepage
Custom color & font changes
Up to 4 structural coding tweaks
Custom blog, category, and /or index pages
3 rounds of revisions
Integrating WooCommerce
Up to 3 additional custom pages
Branding:
3 branding concepts including main and alternative logos
2 rounds of revision on your favorite
Mood board
Style guide
Digital files of the final logos
Content
Adding your content on the home, about, and services pages
Adding your additional content – up to 12 pages and 12 blog posts of your final content
Adding your photos/galleries etc.
Sourcing stock photography for content pages as needed
Adding up to 5 products in WooCommerce
$4,000
SCHEDULING: Projects are scheduled with a 30-45 day or less timeline. A 50% deposit is due to schedule and the remaining 50% is due before launch OR 45 days from your start date (whichever comes first).