What Type of Logo Do You Want?
A well-designed logo is essential to the success of any business. It's the first thing people see, and it can make or break their impression of your company. That's why it's important to work with a professional designer who understands your vision and can create a logo that represents your business.
Your logo is the key to your brand. Your brand is the key to your website's design and layout. They are all connected and part of your brand's circle of life.
I ask new clients several questions to gather information and inspiration for a logo design. Sometimes it can be tricky to get on the same page. I ask questions like:
What do you want your new logo to accomplish?
Do you have any specific imagery in mind
Where will your logo be used?
What files will you need?
What logos are you inspired by and what do you like about them?
Do you have any specific ideas about your new logo?
Eight out of ten times these questions and the feedback from clients have been enough. Some clients have a feeling in mind: welcoming, bold, fun. Some have an image or icon that they want to include to convey a concept: a light bulb to demonstrate ideas, a nurse's hat, and waves to indicate the water.
I have had clients who trust me completely and give me full creative reign to those who send me sketches and know exactly what they want. And honestly, I love both. I've taken old logos and created something new with the old elements. That is always fun.
However, I've recently noticed that I've been lacking in one important question on my design form:
What type of logo do you want?
Five Types of Logos
There are five basic types of logos. Sometimes the word clues a client uses heads me down the path towards one type when really they are desiring a different type of logo entirely. I'm always working to refine my process so this question will be added to my design questionnaire.
Word Mark or Typographical
Typography logos make me swoon, but then I am a font lover. I love the simplicity of a Word Mark. Mix it up with varying fonts or weights and a splash of color and you can have something simple but powerful. Trendy yet timeless. Some well-known logos in this group would be Facebook, Sony, and Disney.
Letter Mark
Letter marks are typographical and create a symbol with initials. Examples would be HP, GE, and Chanel with the interlocking C's.
Combination Mark
This is my favorite and most popular with my clients. The mark or symbol used with this type of logo can be complicated or simple. A few famous examples would be McDonald's, Pepsi, and Sprint.
Picture or Abstract
Simple and memorable are the most common traits of an abstract logo. Some are very literal like Apple. While others are more abstract like Nike. But people remember them and they can be scaled down or used in a large size with the company name.
I don't do much of this type of logo design, but I do like to use something in a combination mark style that can be scaled down or back to symbolize the site or business and used as an icon.
Emblem
An emblem logo is usually a shape with the name of the company inside. Examples are Harley Davidson and Starbucks.
I love…
…simple shapes and striking fonts, which makes me lean towards Word Marks, Combination Marks, and Emblems. And honestly, I have a thing for circles.
Pin it for later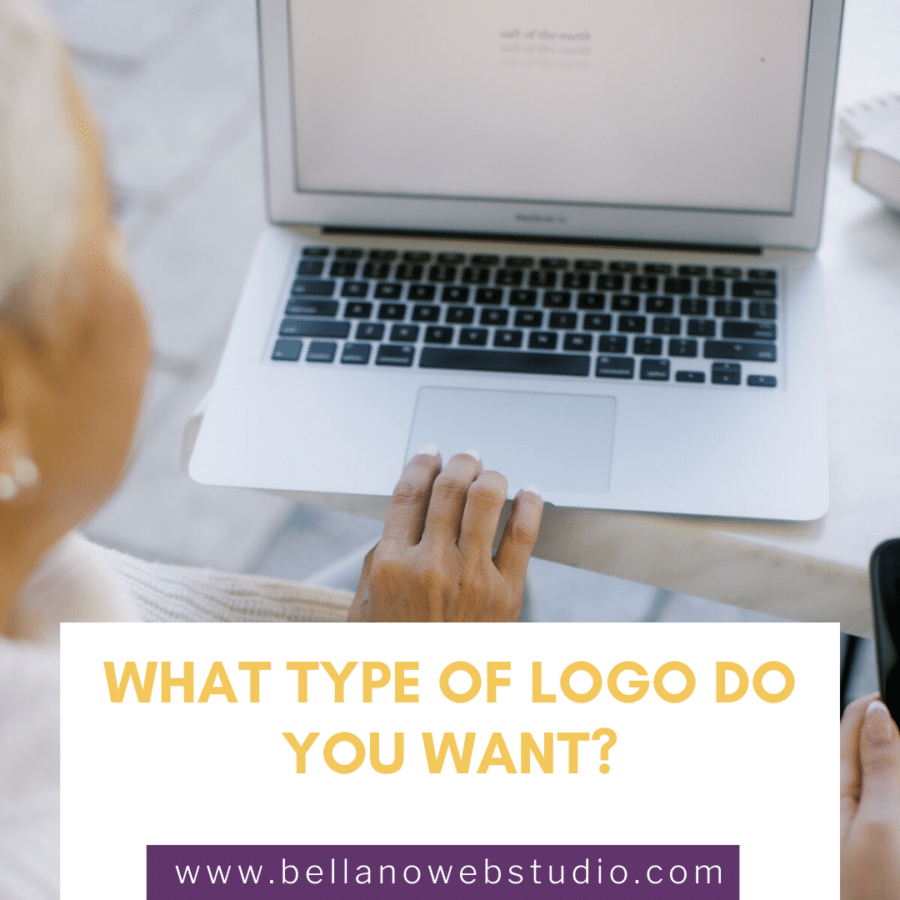 Are you ready for a website you love?
If you are ready for a redesign or your first website and the thought of figuring it all out makes your heart race a bit and leaves you overwhelmed I got you covered! My specialty is taking your wish list and blending your personality with the functionality you need for an online presence that makes you proud. Let's create a stunning first impression and a website where you can stand out online.