The Great Category Cleanup
Let's jump back on this Category Cleanup train.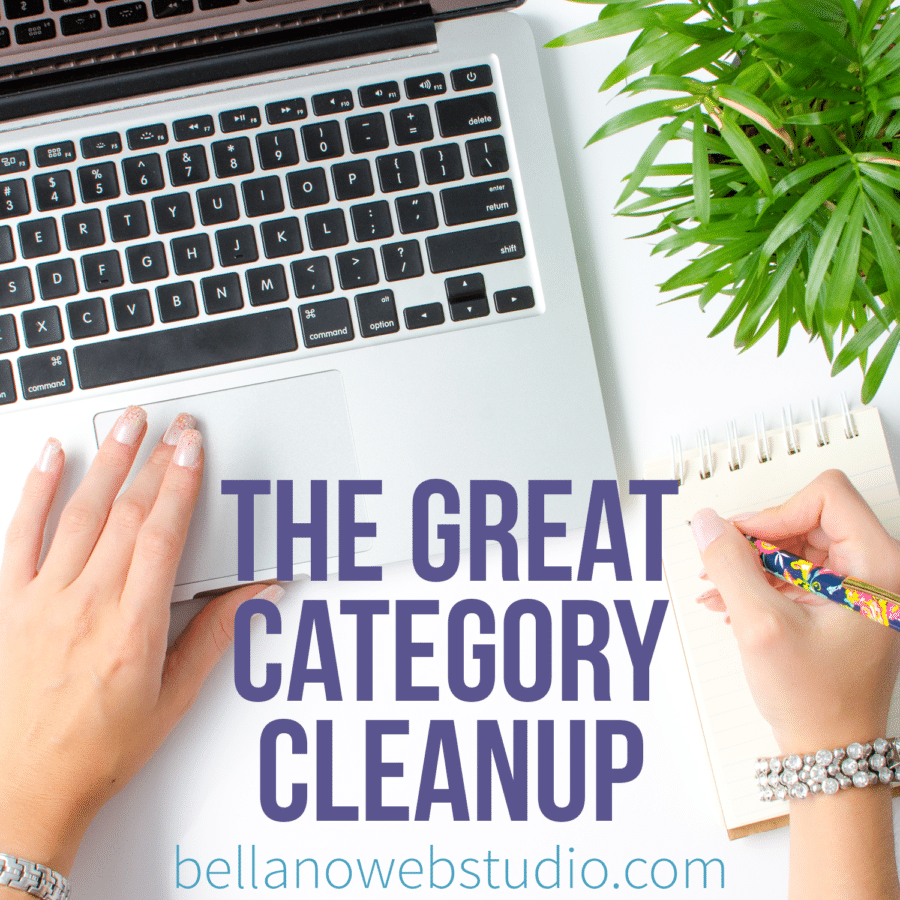 Now that you have a plan on how to structure your categories and subcategories, let's dive into the how. Wait, you don't have a plan? Before you read on for the "how" head over and check out 3 Tips to Whip your Categories into Shape.
Categories have a tendency to become a hodgepodge of labels and ideas after years or even months of blogging. It's easy to add new categories when a post doesn't "fit" into your current structure. Before you know it you can have 10 new categories with one or two posts in them.
I think categories are easier for bloggers that are laser focused on their niche and only write about a handful of topics. Personally, I'm a bit scattered with new ideas flying through my head all day. It can be hard to "file" them in a proper folder at times.
For me it helps to have one category that can serve as my "catch all." For example, on the Bellano blog "tips & tricks" is my go to for posts that don't fit into my other categories about design or inspiration. It is still what I write about (or plan to write about) most, even though it is broad. Which is exactly what a category should be…broad.
If you find yourself tempted to create a new category for a post that does seem to fit, just say no. Unless you plan to use it often.
I love a good analogy. In the last post on categories I compared categories to an epic novel, like Anna Karenina. You have Parts (top-level categories), Chapters (sub-categories), and even headings and sections within a chapter (3rd level categories). Think of your tags like the index in a book.
The other day I was thinking, "maybe the epic novel" comparison is too daunting. I mean who really thinks about writing an epic novel and doesn't feel overwhelm?!? (I think blog post and get overwhelmed.)
Get ready for another analogy.
Your blog is a house. It has several rooms. The main room or living area is your catch all category. The other rooms are your categories with specific purposes. Each post should go in the right room.
Now let's do some cleaning and get those categories in the right rooms.
Editing Categories
The Name Change
The easiest thing to change is a category name. Start with any name changes first. And delete any old categories (only if they have zero posts) that you no longer need.
Posts >> Categories >> Hover on the title and choose Edit
Change the name and delete the Slug. WordPress will create a new slug when you save. All the posts in the old category will change to the new. Update.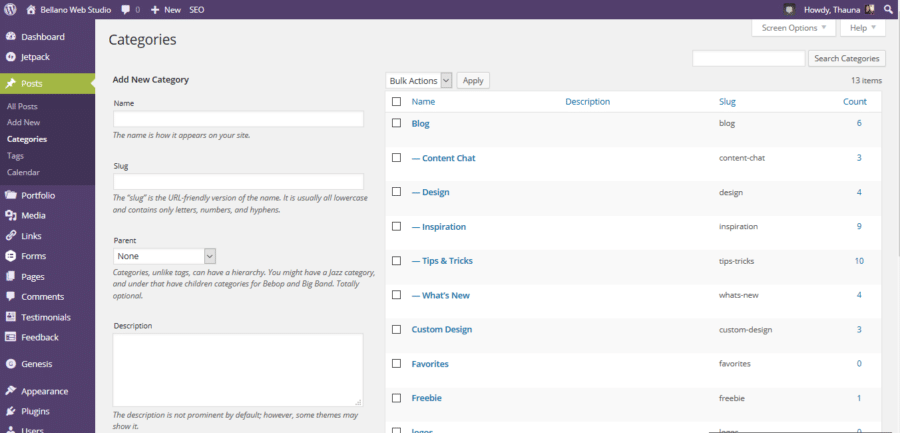 Change Category – Bulk Edit
I don't need my "Blog" category any longer. In a previous design I was using posts for both my blog posts and my portfolio posts so I needed to distinguish them for navigation. Now I want to change all my posts under the "blog" category to a more specific category.
Since my sub-categories will now be top-level categories I'm going to change them in "Categories" first to be top level. Follow the steps to rename the category, however skip the renaming and change "Parent" to none.
Then you will be ready to re-categorize on the post level.
Posts >> All Posts >> Choose your first category >> Click Filter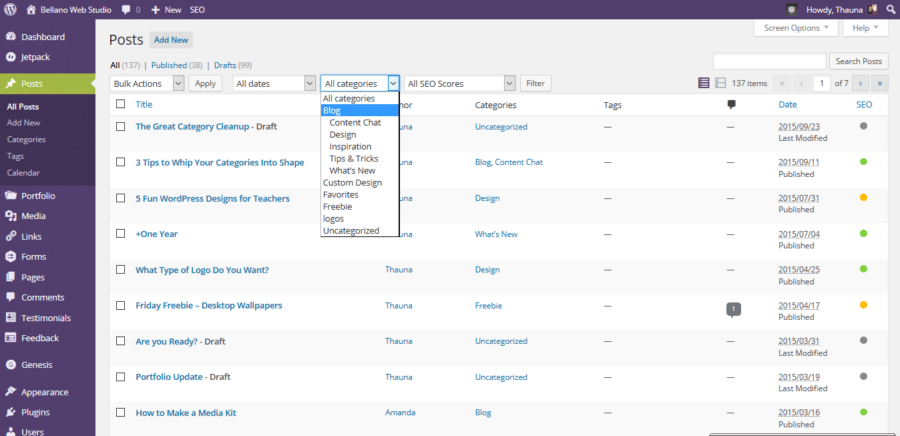 Click the checkbox for all post that will change to the same category. Choose Edit in the drop down box and then Apply.
As you can see there are several things that you can change with the Bulk Edit option. And you will see all the posts you selected in the box on the left.
Check your new category. Update.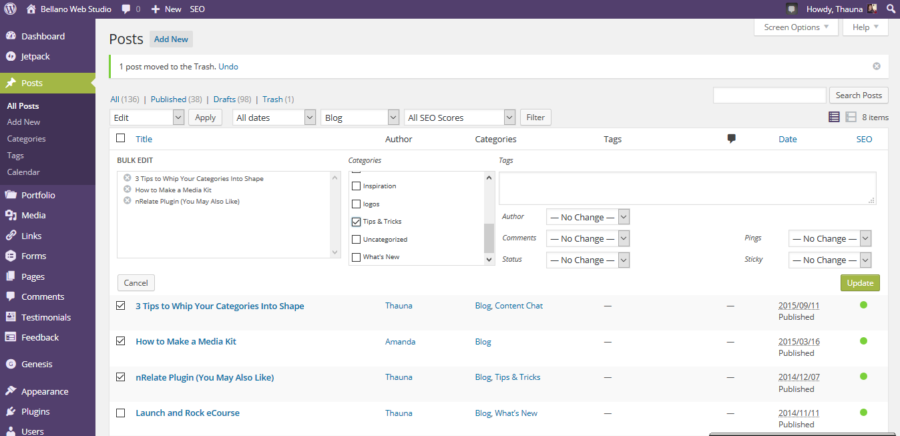 Removing from a Category
If you are not going to delete an old category you may want to remove the category from a post. You will need to "uncheck" the old category with the Quick Edit options. If you are going to delete a category after moving posts to the new category you don't need to worry about the un-categorizing step.
Hover over the Post Title >> Quick Edit >> Similar Options to Bulk Edit >> Uncheck old category >> Update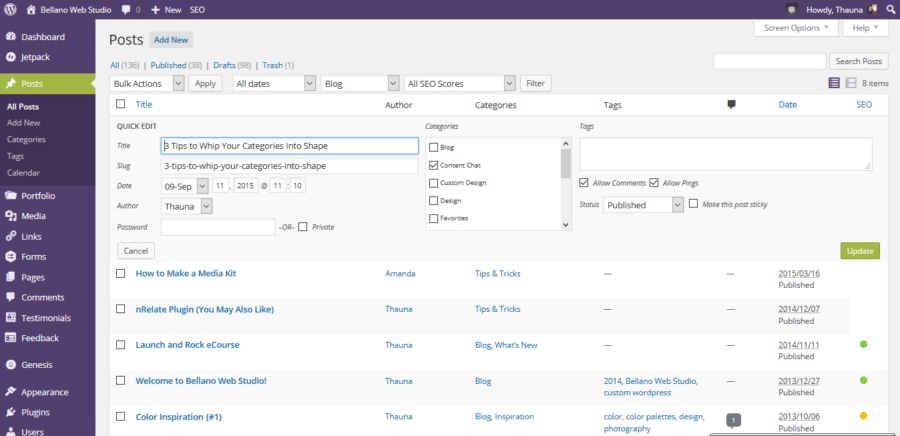 Other Tips
If you have recently migrated from Blogger to WordPress you will most likely have a LOT of categories. Bloggers uses labels which migrate to WordPress as Tags. Most designers use a Categories and Tags Converter plugin because that is how bloggers are using the labels in Blogger…as categories. However, WordPress allows you to be more specific and precise with categories, subcategories and tags.
If you know you have many "breakfast" posts but you have not always been consistent in categorizing them as "breakfast" and you would like reorganize all posts that you have used the word breakfast. Type breakfast in the Search window and Search for all posts. Then you can either do a bulk edit or a quick edit to move each into the correct category.
One Room at a Time
Recategorizing your posts can feel like an enormous task if you've been blogging for a while or have migrated from Blogger. Start with any posts that will show on your homepage. Then do a screen or two a day or setting. You don't have to tackle it all at once. Take it a step at a time and do it over a few days. You'll be through it before you know it and your site organization will be much improved.
If you have any tips you'd like to share or a question leave a comment, I'd love to hear from you.