VIP Transformation: Babies in Bloom
Website Redesign with a VIP Day
Let me introduce you to Rochelle – she's the powerhouse behind Babies in Bloom. We recently had two jam-packed VIP Days where we turned her vision for a customized site into a beautiful reality. Rochelle generously allowed me to pick her brain about the experience, and I thought it would be fantastic to share her insights with you all.
Before we kicked off the project, Rochelle shared a couple of her frustrations with me. Her clients were struggling to find the classes they wanted, and she also hoped to enhance her blog's category structure and SEO. We didn't waste a minute on our first VIP Day – we rolled up our sleeves and jumped right into solving these functional aspects of her site.
Once we had that covered, we shifted gears to elevate the aesthetics and user experience of the site to create the beautifully smooth flow Rochelle always dreamed of for her site. So, let's dive into her perspective on this transformation journey!
Babies in Bloom: Rochelle Shares Her VIP Day Experience & Website Redesign
Hi Rochelle, what made you choose Bellano Web Studio for your web design project?
"Bellano came highly recommended from the designer where I purchased my template (Restored 316). I interviewed a few designers, but Thauna from Bellano just seemed to understand my goals, my brand, and had the talent to bring them to life."
You opted for a VIP Day over a Custom package, can you share your thoughts behind this decision?
"Sure! I already had a template that I adored and some basic skills to work on it. However, there were parts of the template that didn't quite fit my business. The VIP Day offered quick, actionable changes that could transform my site in real-time. It was great to brainstorm ideas together and make the best use of our time."
What were the key challenges you faced while customizing the Restored 316 theme, and how did Bellano Web Studio help you overcome them?
"As a business owner with a bustling enterprise, I knew I wanted to personalize my website, but finding the time or technical know-how was a challenge. Bellano Web Studio was a lifesaver in this regard. I just didn't have the knowledge or time to figure it out and my time was better spent running my business, rather than trying to be a designer."
How does the customized Restored 316 theme align with your brand identity and goals and how does it differentiate your website from others using the same theme?
"The keyword here is 'customized.' It's a perfect fit for my goals and needs, which sets me apart from other websites using the same theme."
What were some of the most important features or functions that Bellano Web Studio added to the theme, and how do they enhance the experience for your customers?
"Thauna redesigned the home page, our classes page, and the blog page, making all of our resources and information easier for our clients to find exactly what they are looking for."
Looking back, what would you say was the most valuable part of working with Bellano Web Studio?
"Honestly, everything! It was such a beneficial experience that I booked a second VIP day immediately after completing the first."
Would you recommend a Bellano VIP Day to other businesses looking to customize a premium theme?
"Absolutely, without a doubt!"
How was the collaboration process with Bellano Web Studio?
"It was fantastic! Thauna was very attentive and responsive. It was like having an all-day chat with a friend. She immediately replied to any of my questions and took the time to show me (via quick videos) the things I wanted to understand how to do instead of just doing them. She was generous with her time, talent and teaching. She taught be how to fish instead of just handing me fish on a platter."
Since launching the updated website design, have you seen any positive impacts on your business?
"Yes, within just a few weeks, we've seen more traffic, more people are reading our blog posts, and our class enrollment has gone up. It's been really encouraging!"
So there you have it, straight from Rochelle! Our chat really shows how a thoughtful website makeover with Bellano Web Studio can supercharge your online presence. If your website could use a little TLC, why not follow Rochelle's lead? A VIP Day might just be the game-changer your business needs. Let's turn that website wish list into reality!
Here are some of the highlights!
HOMEPAGE – BEFORE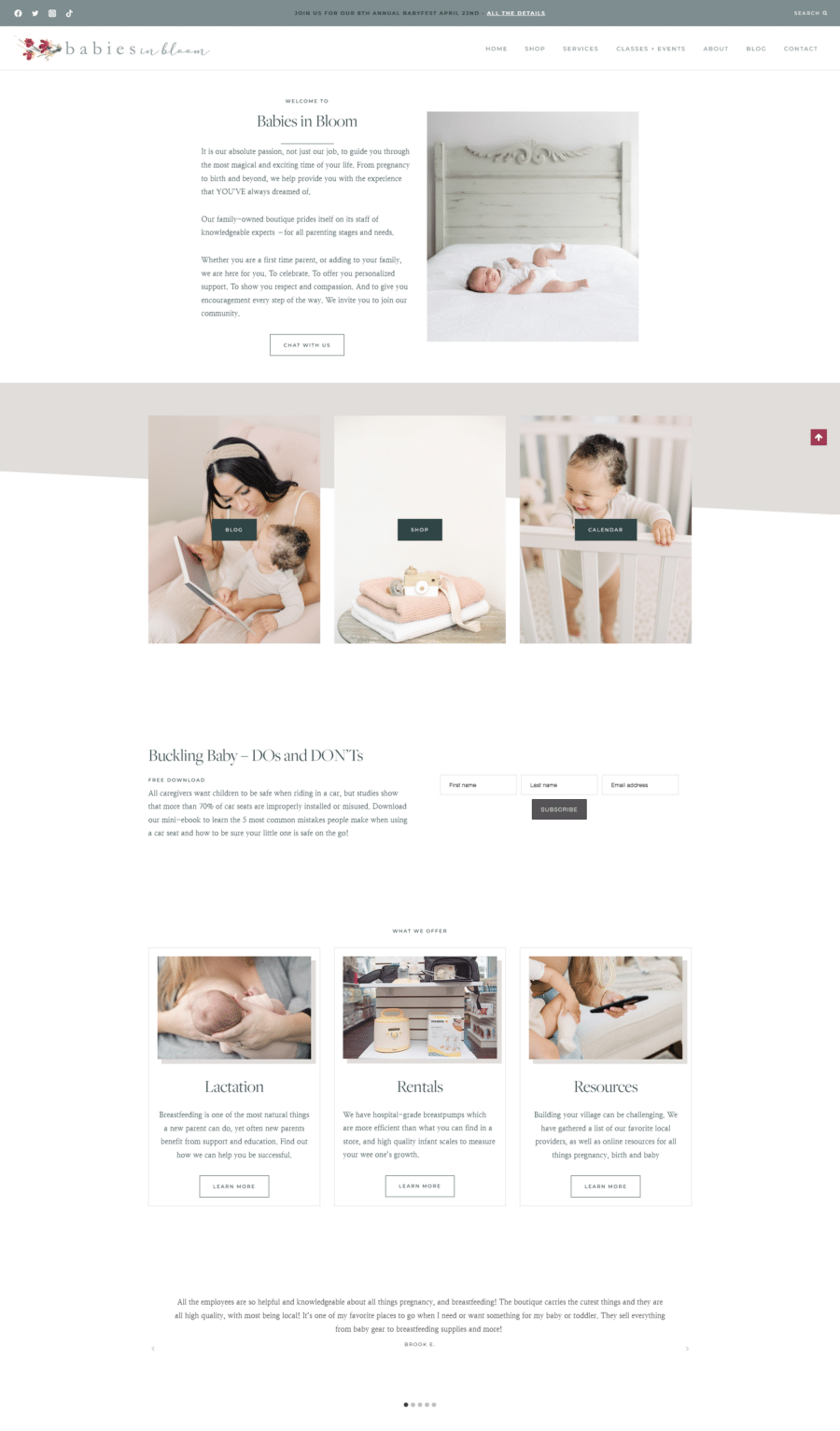 HOMEPAGE – AFTER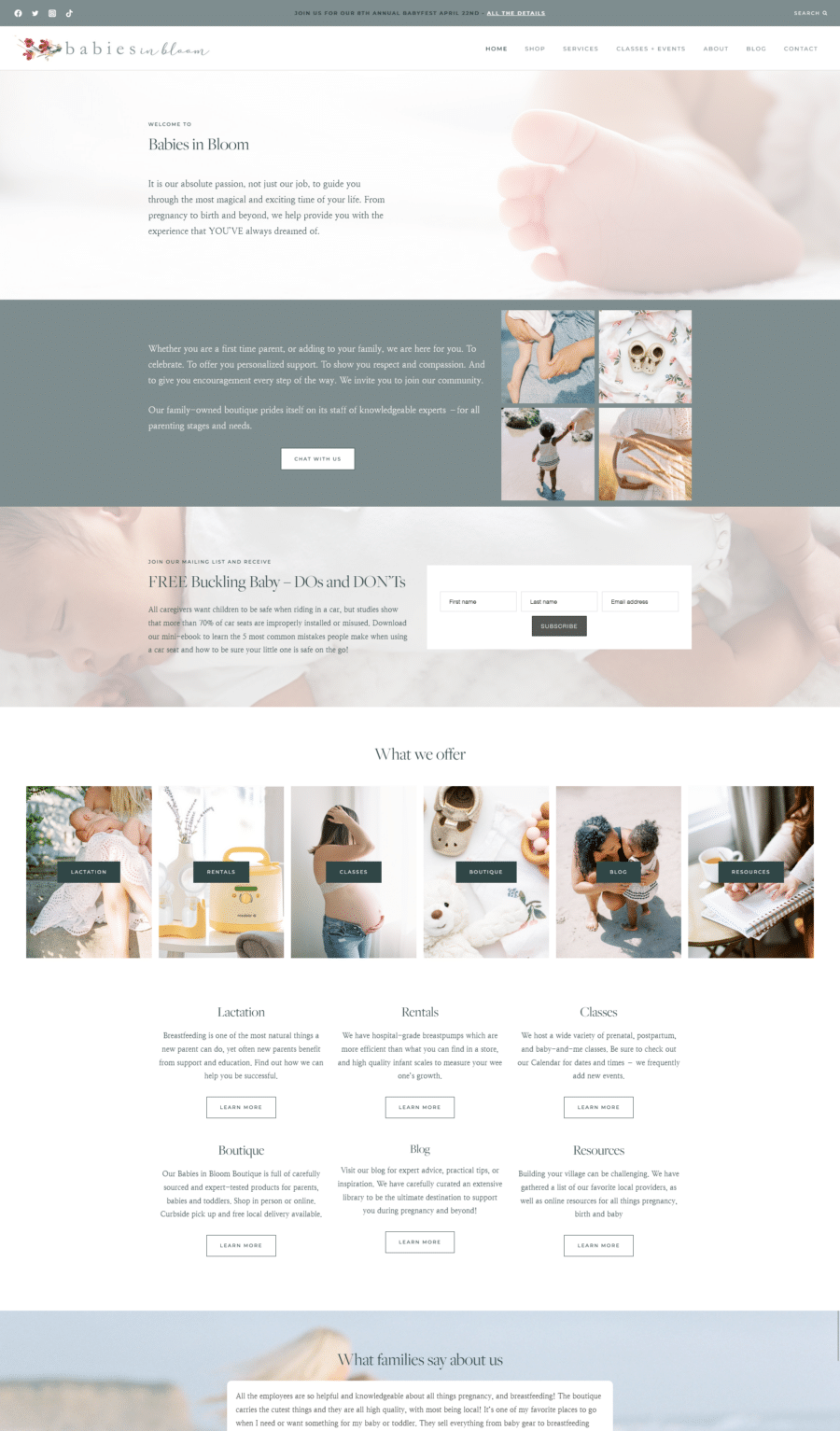 CLASSES PAGE – BEFORE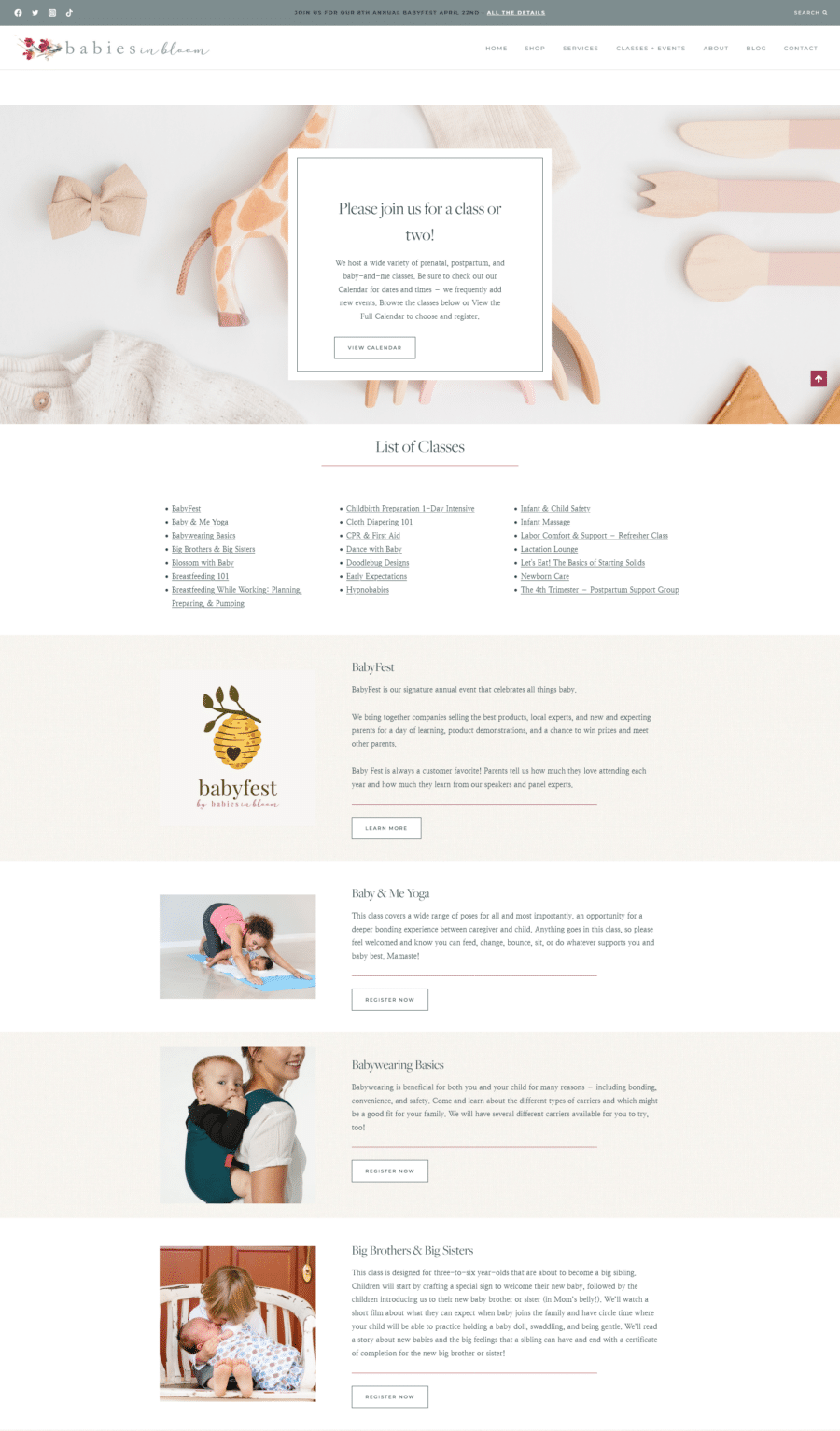 CLASSES PAGE – AFTER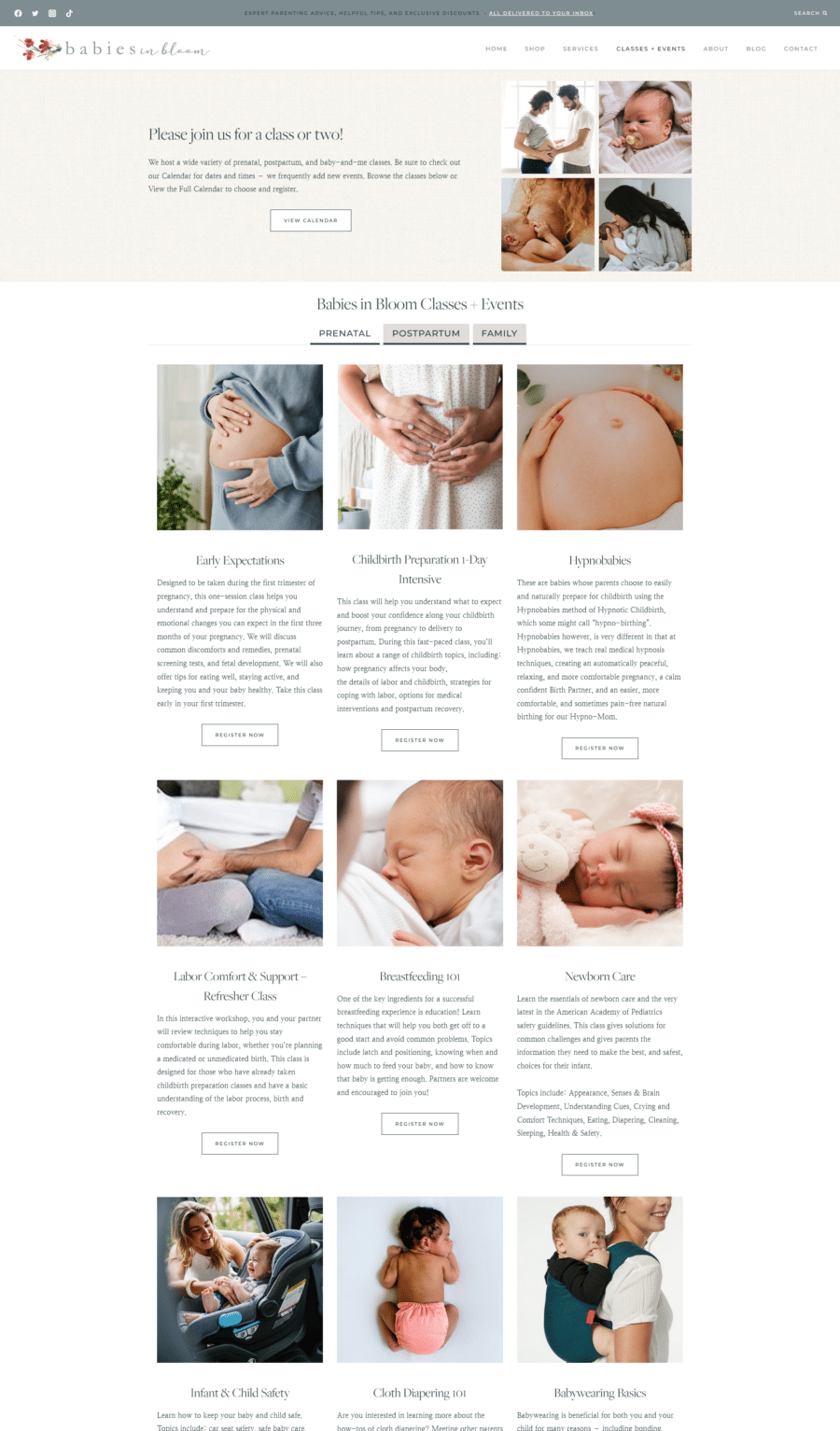 BLOG PAGE – BEFORE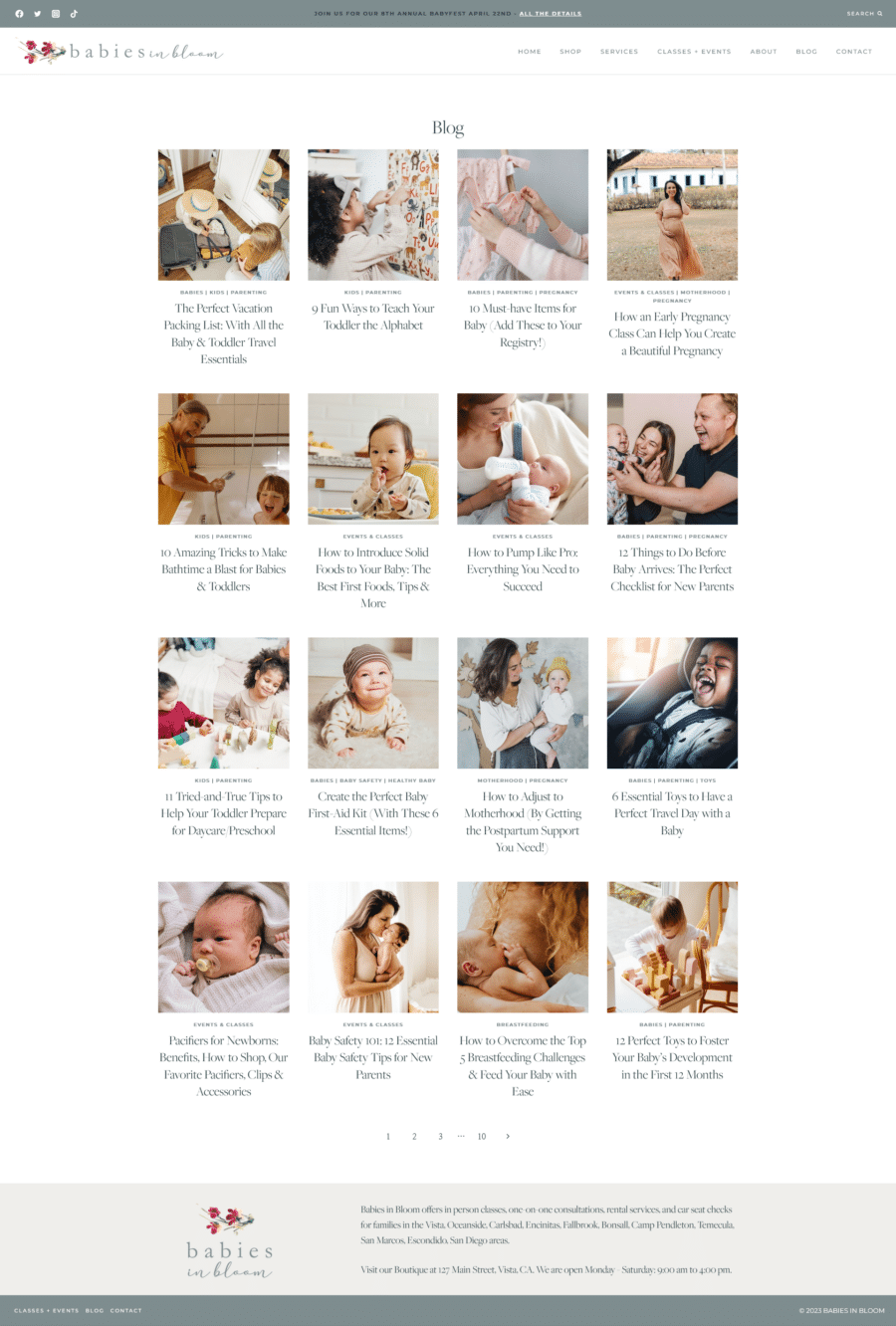 BLOG PAGE – AFTER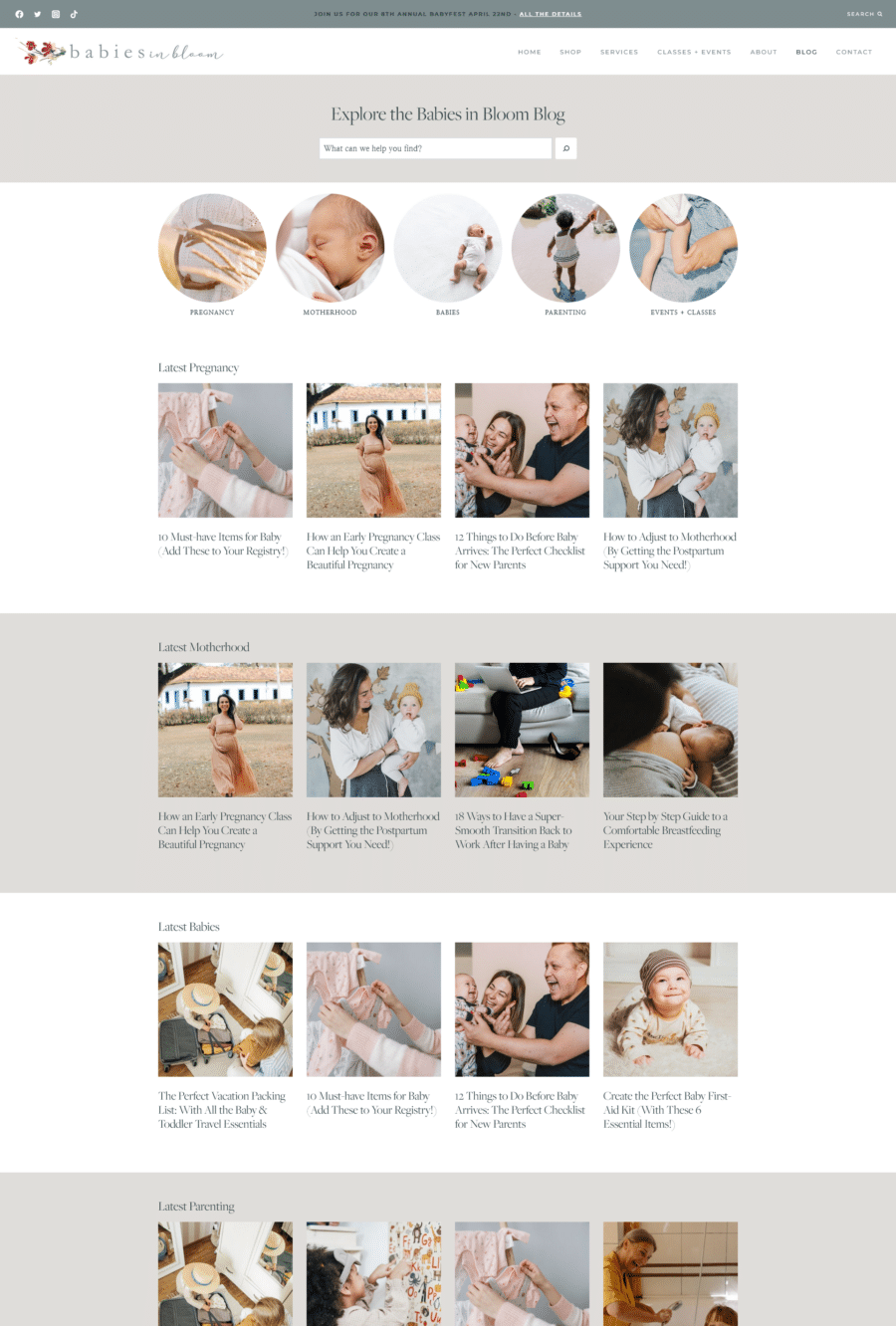 Ready for your VIP treatment?
With a Bellano VIP Day package, I dedicate the entire day to you and your project. The day is custom-tailored to what you need and your objectives. You can use the day for your to-do or wish list or give your current site a quick refresh. We can also use your day to create a custom block collection that will save you precious time. Book your day and send me your wishlist.