The Bellano BRAND Brainstorm Session: A Customer Success Story
When it comes to brand identity design, consistency is key. Your customers should be able to see your brand's look and feel throughout all of your online platforms, from your website to your social media pages. This is why it's so important to start with the basics and make sure that your brand's visual identity is consistent.
In this customer success story, we'll take a look at how the Bellano BRAND Brainstorm Session helped one business owner achieve her branding goals!
What is brand identity design and why do you need it?
Brand identity design is the process of creating a visual representation of your brand that is consistent across all platforms. This includes your website, social media pages, and any other marketing materials you use. A strong brand identity helps customers to recognize your business and creates a sense of trust.
When it comes to branding, one size does not fit all. Every business is unique and your brand identity should reflect that.
How to brand a new business
I liked Jill the minute I met her. She's got a New York attitude and a great sense of humor. She's also very passionate about her business goals – to provide affordable copywriting services to mompreneurs.
When Jill approached me about helping her with brand identity design for Shining Light Digital, I was excited to get started.
But, all she knew was yellow. Seriously. Jill was lost when it came to brand identity and had no idea where to start. The "light" in Shining Light Digital was important to her and she wanted that to be reflected in the brand.
To make matters even more challenging, she didn't want to spend a lot of money on branding because her business was just starting out.
Before Jill worked with me, she had installed the Scribe Theme from Restored 316. It's a fantastic, versatile theme, but the built-in color palette and font didn't really reflect the identity Jill was going for. We both loved the heading font used in Scribe (Butler) and it looks fantastic big and bold, however using it in smaller sizes or different font-weights the fine lines can almost disappear. Also Butler is not available in Canva and Jill wanted to be able to create her own graphics.
Here's how we started…
Bellano Brand Brainstorm Session
Walking clients through the Bellano Brand Brainstorm Session is one of my favorite things to do.
It's the perfect solution to work out a brand for a new business or discuss a brand refresh for an existing business.
Here's the overview I give clients:
Pre-brainstorm workbook… because we need to get clear on what you want to achieve with your business in the next 12 to 24 months.
45-minute consultation call… because you need to chat with a professional and understand exactly what's going right and wrong with your BRAND.
Detailed feedback on your top blog posts… because we need to understand what's visually holding you back from the conversions you want.
Tips and techniques to improve your About Page… because this is one of the most important (and visited) pages on your site and it needs to accurately reflect your authority and be current.
A Review of your newsletter design… because we want to make sure you're staying in touch with your customers and leads in a way that matches your overall brand.
The three pillars of Brand Identity Design
For a new business owner, brand identity design might seem like an overwhelming task. But, it doesn't have to be! I like to break it down into three pillars –
business goals
ideal customer
brand personality
– we can easily tackle each element one at a time.
Business Goals
Jill was clear on her business goals. The most important thing in her new business's early stage of growth was to position herself as an affordable Copywriter and grow an email list of future customers. Every part of her website had to be focused on that goal.
Ideal Customer
I can't stress how important it is to know who your ideal customer is. Once you know that, every decision becomes easier.
For Jill's business, her ideal customer was a mompreneur who was passionate about their business but didn't have a lot of money to spend on copywriting services.
(Side note: I admired that Jill wasn't stressed about her services page. She was focused on her business launch even though her packages and prices weren't 100% polished yet. My motto is to "start where you are but just start". Waiting until every little piece is in place is how clients stay stuck on the launch pad.)
Brand Personality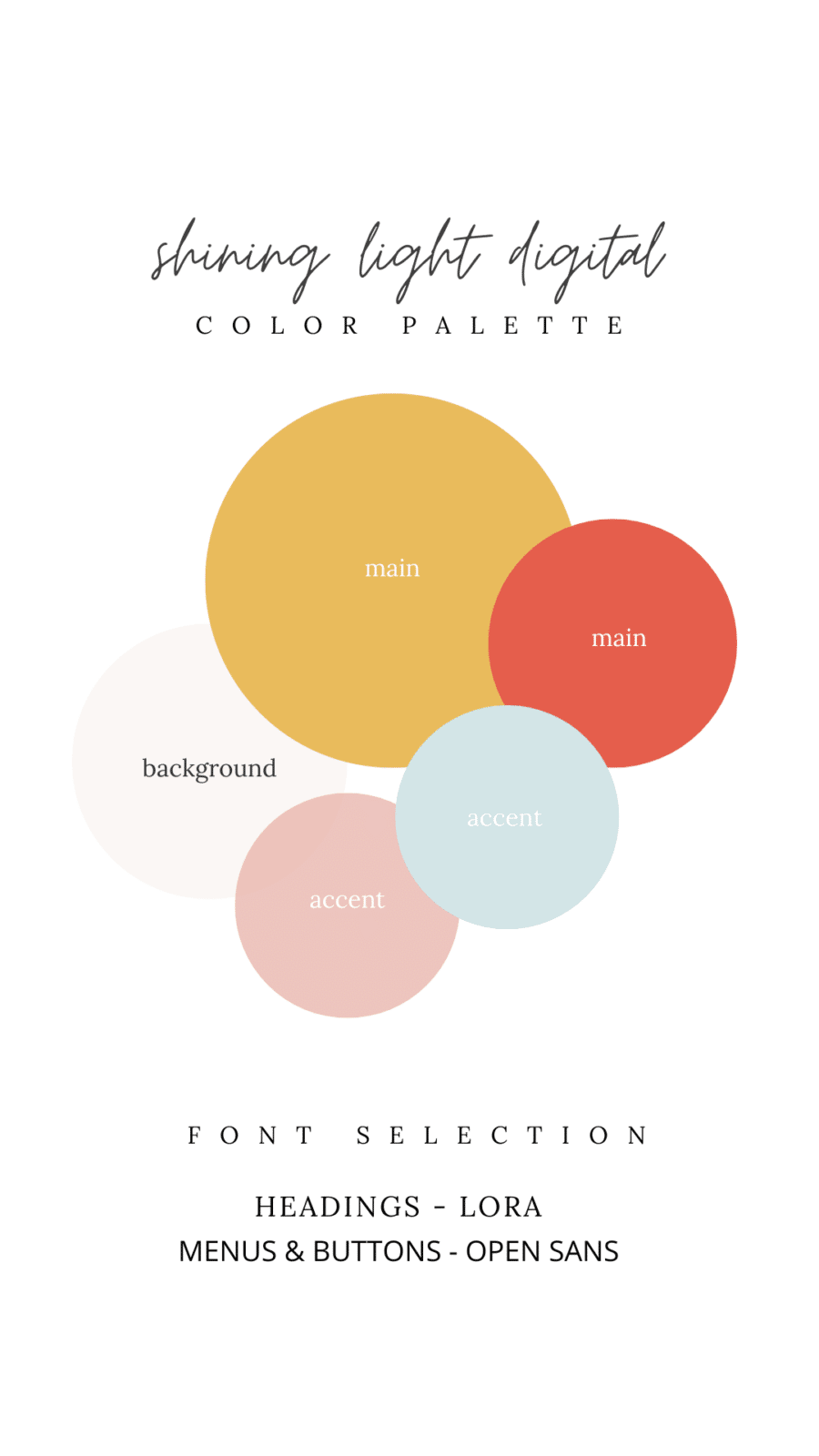 When it came to brand personality, Jill was open to suggestions. The word bubbly came up a few times in our conversation.
So, I married bubbly with yellow, but I also brought in a touch of minimalism to match her New York roots.
Once we determined yellow was the main color we had to find the right shade. Our first choice was a bright, light yellow but considering the ADA website accessibility guidelines we decided to deepen it to a mustard yellow that had more contrast.
And because Jill was on a budget, we decided to use fonts that were available in the free version of Canva and already built into her Kadence WordPress theme.
The result was a brand identity that felt warm, approachable, and professional – just like Jill.
After the Bellano Brand Brainstorm Session
At the end of our call, Jill explained that she was on a budget but was also tight on time. That wasn't a problem.
I was able to take what we had discussed and pull everything together in half a VIP day.
Within a day, she had a brand identity that she loved!
The best part? She was able to create a lead magnet herself in Canva and launch her site. She's already building her email list and booking discovery calls. Brava Jill!
Now that's what I call brand identity design success!
Pin for later!