French for Sugar– Kadence Redesign
French for Sugar is a boutique bakery in Denver, Colorado. They offer a large variety of gorgeous cupcakes, mini-cupcakes, custom cakes for any occasion, wedding cakes, cake pops, custom cookies, and French macarons. Of course, they also offer a selection of traditional French pastries and "two-bite" desserts. As a designer with a sweet tooth, the hardest part of this project is that we are a state away from each other and I cannot run down to the bakery for a cupcake fix.
I designed the bakery's first website in 2018 and I was so excited when Michelle said she was ready for an update. We have worked on little updates over the past few years and Michelle is a dream to work with. I also love working on redesigns with clients and especially redesigning my old work. There are always new design trends and new features to stay current with which is why I recommend a redesign every 2-3 years.
The bakery has grown so much in the past 4 years and its online sales are a big part of that growth. This was the perfect opportunity to move the site to Kadence as well as update the look. Kadence has some fun features available for WooCommerce that really enhance the customer experience.
French for Sugar Redesign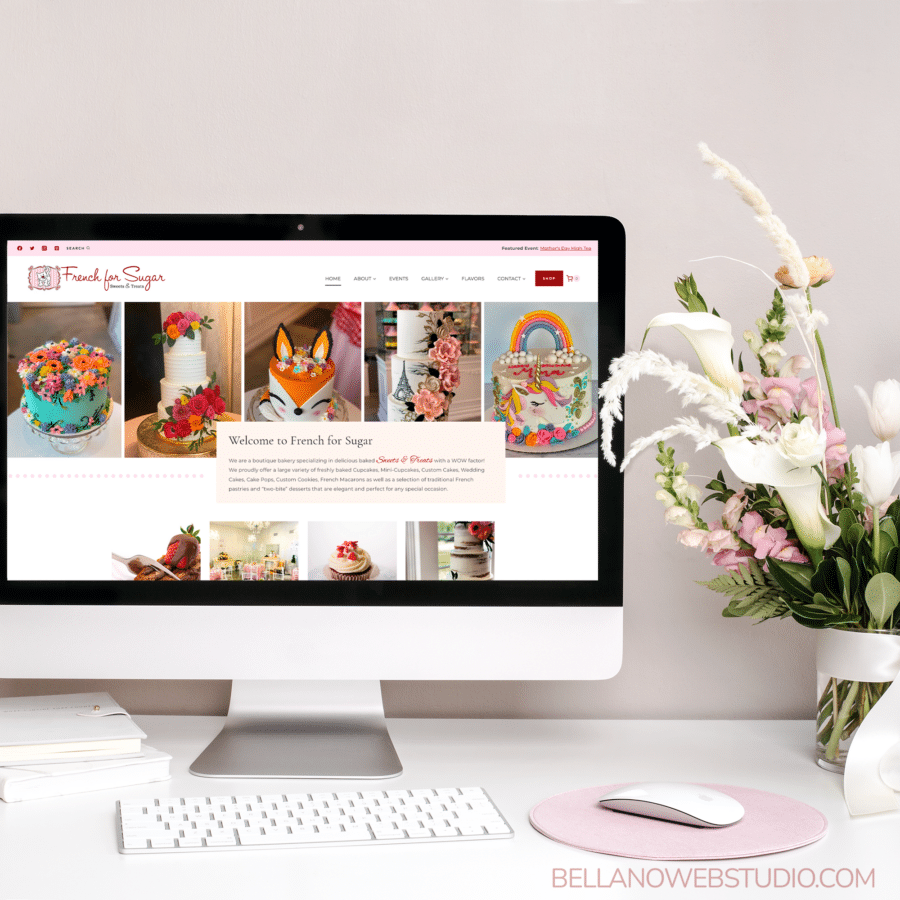 My favorite things about this project:
Working with Michelle!
Updating a design I did years ago is one of my favorite things.
I love the way we've used blocks of color and columns to make important information about the bakery easier to find.
Improved the slider to showcase the beautiful cakes. I was able to use better photos and display more gorgeous cakes in less space.
The site looks amazing on mobile.
Nice words from Michelle:
Starting a small business is a very daunting task. The list of things to get in place can be scary and overwhelming and in a day and age when an online presence is such an important component of how you present yourself, it is crucial to find a web designer that is able to not only see your vision but execute it perfectly!
For me, that Web Designer has been the incomparable Thauna Smith and her company, Bellano Web Studio. I have had the absolute pleasure of working with Thauna for over 6 years as she has guided, advised, designed, and implemented the most amazing things for my company through website design and maintenance. When you work with Thauna, it's more than just a client-to-client relationship, it is a true partnership. Her approach to design is both cooperative and personal, her communication style is easy and consistent and her level of professionalism is unparalleled. The attention to detail, function, flow and the overall look and feel of any project she takes on is exceptional and she does it all at a price that is fair and realistic.
Working with Thauna and Bellano Web Studio has been one of the best and most rewarding experiences and I would highly recommend her services to anyone who is looking to take their online presence to the next level!
Check out other custom WordPress projects in my portfolio.
Are you ready for a website you love?
If you are ready for a redesign or your first website and the thought of figuring it all out makes your heart race a bit and leaves you overwhelmed I got you covered! My specialty is taking your wish list and blending your personality with the functionality you need for an online presence that makes you proud. Let's create a stunning first impression and a website where you can stand out online.