Remodelaholic is a DIY blog that will inspire you to tackle that to-do list for your home. From remodeling projects and decorating ideas to recipes, crafts, and party plans, you are sure to find some fun projects or meals to try.
I was so excited with Cassity reached out to me about a redesign for her blog. Cassity and her husband have been blogging about their remodeling adventures for 12 years. They have a lot of content and wanted improved organization for a better reader experience. I love to create clean navigation that helps direct the reader where to go and also makes it easy for them to find the topics they are interested in reading. When you have a lot of content it's important to also give your readers reasons to stick around and make it fun for them to discover your older content.
Remodelaholic – Custom WordPress Design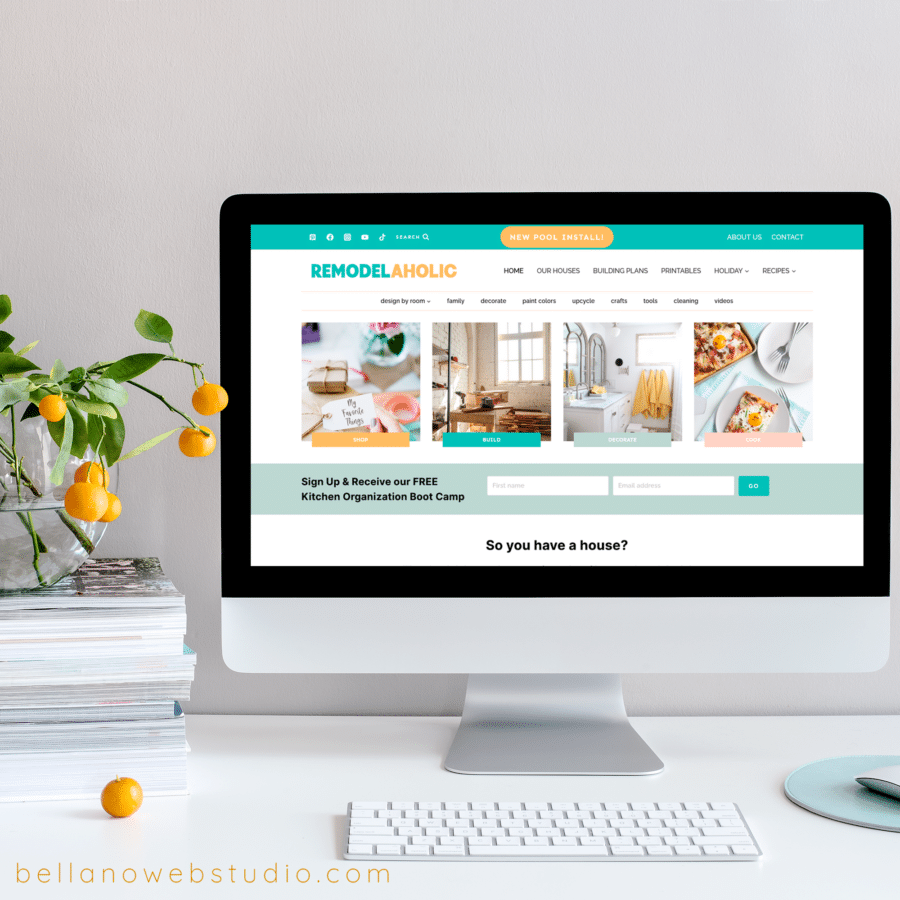 My favorite things about this project:
Updated their logo from a "cute blogger style" to a clean, bold, modern log that could appeal to women and men (since her husband is a big part of the business and their audience is also male).
The organized homepage showcases everything they do.
I love the icons used for the categories in each of the main sections. Cassity drew each of them, she is crazy talented!
Silo/Category pages that make it easy for readers to find what they are looking for and find other posts. Some main silo pages have content in between the featured posts that enhance SEO (see the Christmas page for an example) and give the reader some more information and tips.
Nice words from Cassity:
Finding Thauna has been life-changing! I am so excited to have a competent designer on my team now. We were able to get done, in one month, what I've been dreaming about for the last 5 years. She has followed my lead for anything I was sure I wanted and recommended options when I got overwhelmed with all the decisions. She made things look better than I could have hoped for, and held my hand as I learned new features that I haven't used before. She is responsive and kind. I feel confident for the first time in my 12-year blogging run that if I want a design update, I can get it done because I know exactly who to ask, Thauna!!
Cassity, Remodelaholic
Check out other custom WordPress projects in my portfolio.
Are you ready for a website you love?
If you are ready for a redesign or your first website and the thought of figuring it all out makes your heart race a bit and leaves you overwhelmed I got you covered! My specialty is taking your wishlist and blending your personality with the functionality you need for an online presence that makes you proud. Let's create a stunning first impression and a website where you can stand out online.