5 Steps to Get Noticed on Pinterest
Your site is launched and you are ready to tackle social media to gain some traction in the visibility game. You are a pro at Instagram and Facebook but…
How do you get noticed on Pinterest?
Pinterest requires a bit of strategy and a game plan. You need to set up a few things as well as making those pinnable graphics that will get people clicking over to your site.
ONE – Business Account
If you have a personal account switch it over to a business account. If you are starting fresh, make sure you set up your account as a business.
Your username will be part of your URL (https://www.pinterest.com/bellanowebstudio/) and can be different than the name displayed on your account.
Upload a profile image. Whether you use your photo or your logo is up to you, just make sure it's a clear image because it will show on your pins.
TWO – Confirm your Website
Get a Meta Tag

Go to your profile page
Hover over your photo and select Settings
In the Website field, click Confirm Website
Copy the Meta Tag

Add Meta Tag in Genesis

Go to Genesis >> Theme Settings
Copy Meta Tag code into the Header Scripts area
Save

Add code in Yoast SEO

Go to SEO >> Social
Click the Pinterest Tab
Copy the Meta Tag code
Save Changes
THREE – Apply for Rich Pins
Rich Pins adds extra metadata to your Pins which gives your Pinners and better experience and helps with your engagement. There are 6 types of Rich Pins: app, article, movie, place, product, and recipe.
To apply you simply need to validate a URL (choose a page or a post) in the validator and click Validate.
If you do not get a Congratulations notice follow the instructions to resolve.

FOUR – Create Pinnable Graphics
You know the kind of images that your reader WANTS to pin!
Use high-quality photos that are crisp and clear.
Add text to at least one photo for pinning. This will help catch the eye of users on Pinterest and give them a reason to click over and read your awesome content.
If your reader is using the Pinterest add-on in their browser they will get to choose from all the photos in your post. It's ultimately their choice which image to pin the last image in your post will be first in their options. If you want to use a cool long image for Pinterest put it at the end of your post and it will be their first choice.
Use your keyword and a brief description of the alternate text of your image. (edit image >> alternate text >> update)
Install the Plugin and activate
Go to Settings >> jQuery Pin It Button for Images Lite
Selection Tab

Set minimum – I have mine set to 160 x 160 so the Pin It button does NOT show on images that size or smaller. You may want to adjust.
Visual Tab

Description Source – make sure you have Image Alt Attribute checked if you are adding your pin description in the alt tag. Also, it's good to add the Post Title.
Transparency – you can change to your preference. This sets the image to dim on hover and the pin it button displays more prominently.
Pin Image – use the default Pinterest button or upload a custom button (see below for some premade buttons)
Pin It Button Location – select where you would like the button to be placed over your image
Pin It Button Margins – allow you to future refine the placement.

That's it! – those are all the changes that I make to the plugin.
Grab your FREE Pin It images.
Congratulations! Your new or redesigned website has just launched, and it's a beauty! With your content locked and loaded, the next step is to share, connect, and attract a loyal following. Social media is still the go-to channel for building and engaging with your target audience. Especially if you're a new blogger, having a well-structured social media game plan is…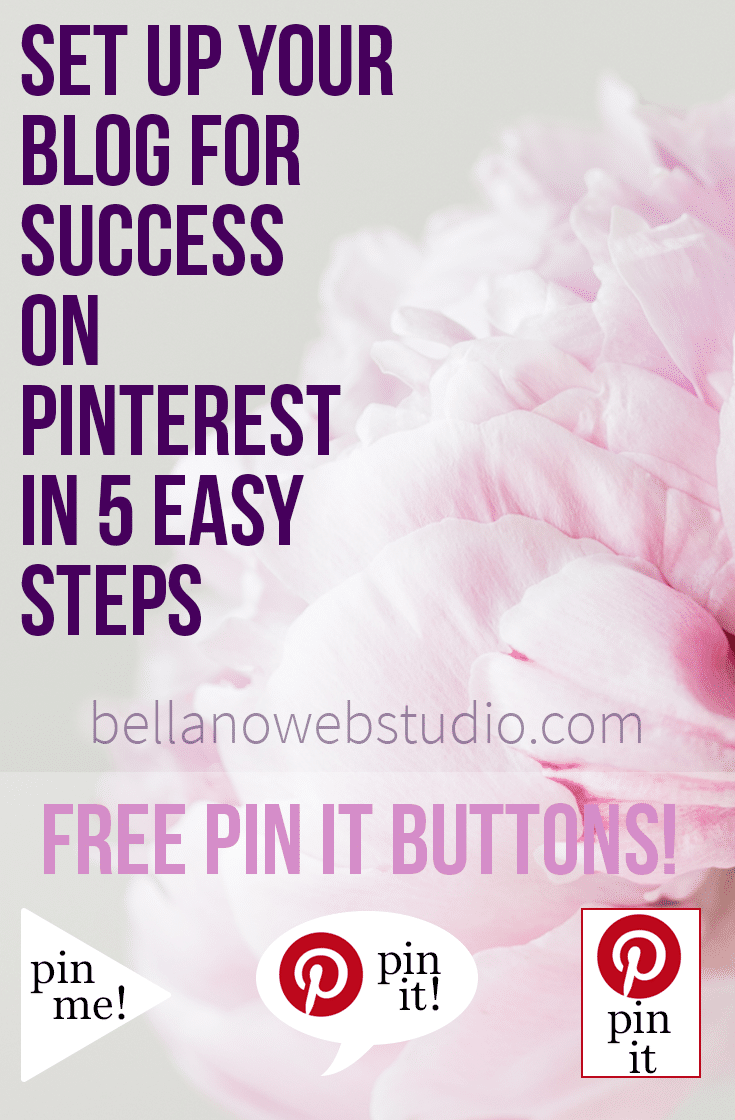 Are you ready for a website you love?
If you are ready for a redesign or your first website and the thought of figuring it all out makes your heart race a bit and leaves you overwhelmed I got you covered! My specialty is taking your wish list and blending your personality with the functionality you need for an online presence that makes you proud. Let's create a stunning first impression and a website where you can stand out online.