Mrs. Russell's Room is a wonderful resource for teachers. Tamara has been blogging since 2012 and is currently teaching third grade. When she is not teaching, Tamara travels often to train other teachers.  She is most passionate about teaching for high engagement, using standards based teaching and rubrics to improve growth, and teaching writing.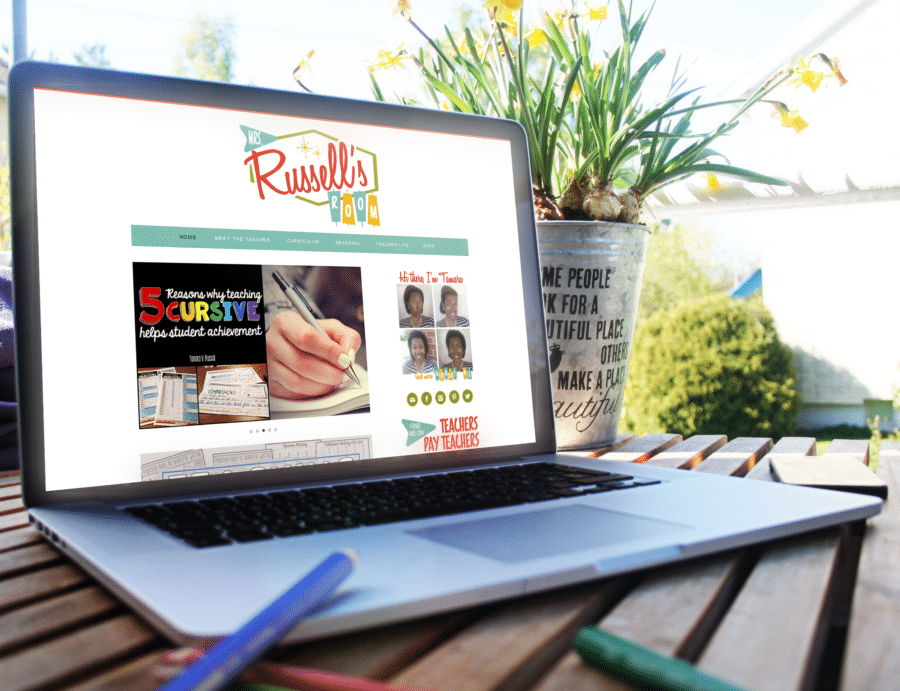 This project was a custom design, included the logo and a migration from Blogger to WordPress. I had so much fun collaborating with Tamara on her project, especially developing her retro logo.
What Tamara had to say:
When I began this process, I knew that the branding I was getting was going to be what would define me going forward. I was looking for a professional designer that could help me to dream big and create a blog space that would be beautiful. She helped me to figure out what I loved and then worked with me to exceed the expectations that I had for the end result. As a teacher-author, I wanted something that was youthful and fun, but professional to match the content I share. I am so grateful that I chose Bellano Web Design to do my blog! Going from Blogger to WordPress was daunting, and even after my design was up Thauna held my hand as I learned the ropes and gave me so many tools to acclimate to my new blog. If you are a blogger doing a conversion from Blogger to WordPress, consider Bellano! Thauna is absolutely the best and she cares so much about not only the look of the blog, but the comfort of the blogger in assimilating to the changes and becoming independent with the new site. Thank you so much! Thank you Thauna! My blog is the happiest space on Earth for me and I LOVE you for making it so gorgeous!
Mobile Responsive