Celebration Elevation is a blog that helps readers plan celebrations. It is run by Teresa, who has a lot of experience with making special occasions memorable. Teresa offers tips and advice on how to make any celebration wonderful, whether it is a birthday, anniversary, holiday, or any gathering of friends and family.
Teresa believes planning a celebration should be fun and exciting, not stressful and overwhelming. The main goal of the new site is to provide fresh, creative ideas and helpful tips to make your next event one to remember. Whether you're looking for party theme inspiration or help with creating a guest list, check it out today – your perfect celebration awaits!
I had fun working with Teresa and I'm so proud of the site and branding. I have been so impressed with how she has really hit the ground running with adding new content regularly. I'm excited to watch as she grows her site.
Celebration Elevation – Custom WordPress Design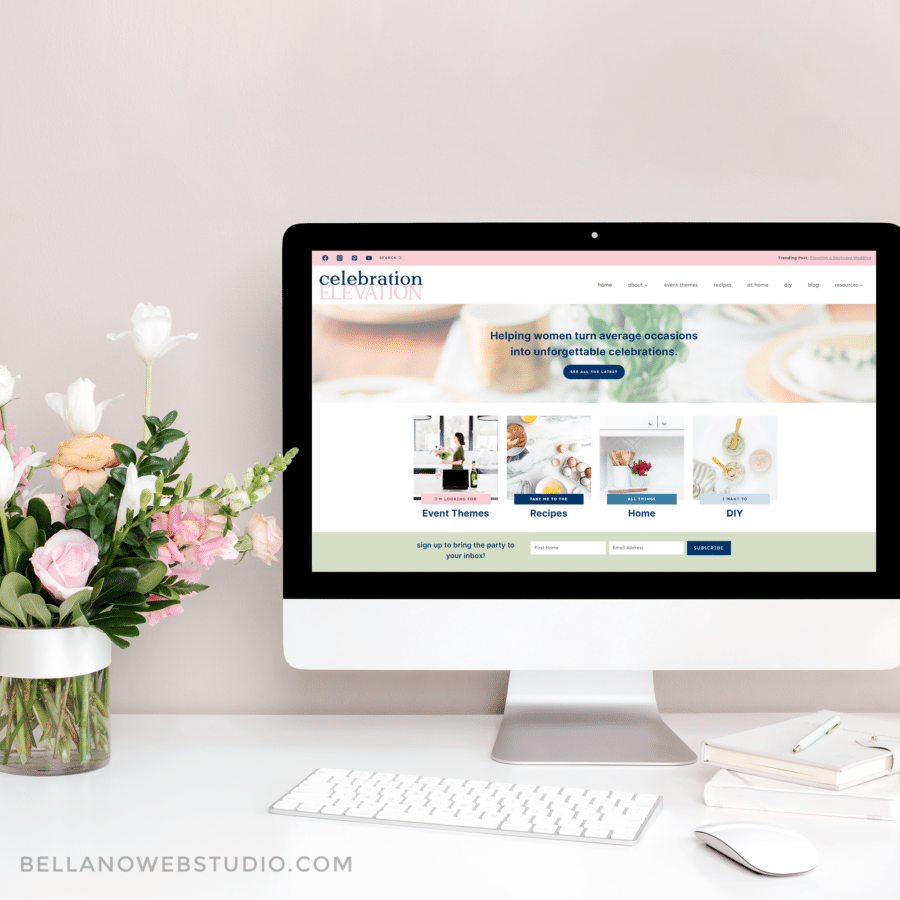 My favorite things about this project:
The color scheme. It's so pretty and light and I love the way it let's the photos take center stage.

The organized homepage that helps the reader find exactly what they are interested in.

The logos are on my list of favorites. I love good typography logo and the alternate logo added a dash of celebration with the confetti.
Silo/Category pages make it easy for readers to find what they are looking for and find other posts.
Nice words from Teresa:
I met Thauna through a Facebook group that we both belong to, and I feel very fortunate that I did! She had quite the challenge ahead of her… to move my website from Squarespace to WordPress and to design a new website, complete with a new logo, brand colors, and a whole new look. My new website absolutely reflects me, my personality, and everything I wanted to convey with my business and blog. I love it and I get so many compliments on it!
Although we only communicated through emails, and it was only a few weeks, I still feel like I walked away with a beautiful new website and a new friend! Learning a whole new content management system (WordPress) can be stressful, but Thauna made the whole experience a positive one.
If you are looking for a web designer who is artistic, professional, and a pleasure to work with, Bellano Web Studio is absolutely whom I would recommend. She knows what she's doing!
Teresa, Celebration Elevation
Celebration Elevation – Moodboard
Check out other custom WordPress projects in my portfolio.
Are you ready for a website you love?
If you are ready for a redesign or your first website and the thought of figuring it all out makes your heart race a bit and leaves you overwhelmed I got you covered! My specialty is taking your wishlist and blending your personality with the functionality you need for an online presence that makes you proud. Let's create a stunning first impression and a website where you can stand out online.