Vanessa Hemingway is a Certified Lymphedema Therapist located in the Santa Cruz, California area. I'm so grateful that Laura connected us and Vanessa chose me as her designer. This was a fun project.
Vanessa's site is dramatic and stunning. We went all in on the black-and-white color scheme, including the photography.

I have to admit that it wasn't my idea. It was Vanessa's vision. During our kickoff week, she shared a few sites that she liked but one black-and-white site really resonated with her. She asked my opinion on going black and white and I LOVED the idea! I wrote her back quickly and said let's do it! She found a local photographer who does amazing black-and-white portraits and she booked her session.

That is what I love to do…take my client's vision and create a website that delights them. While also providing the functionality they need to run a successful business and stand out from the sea of sameness on the web.

I enjoyed the challenge of stripping away the color and focusing on how I could use the photography, fonts, and layout to bring the design to life. I love how the black-and-white photography gives a sense of both intimacy and privacy to the sensitive nature of Vanessa's work.
Vanessa Hemingway – Custom WordPress Design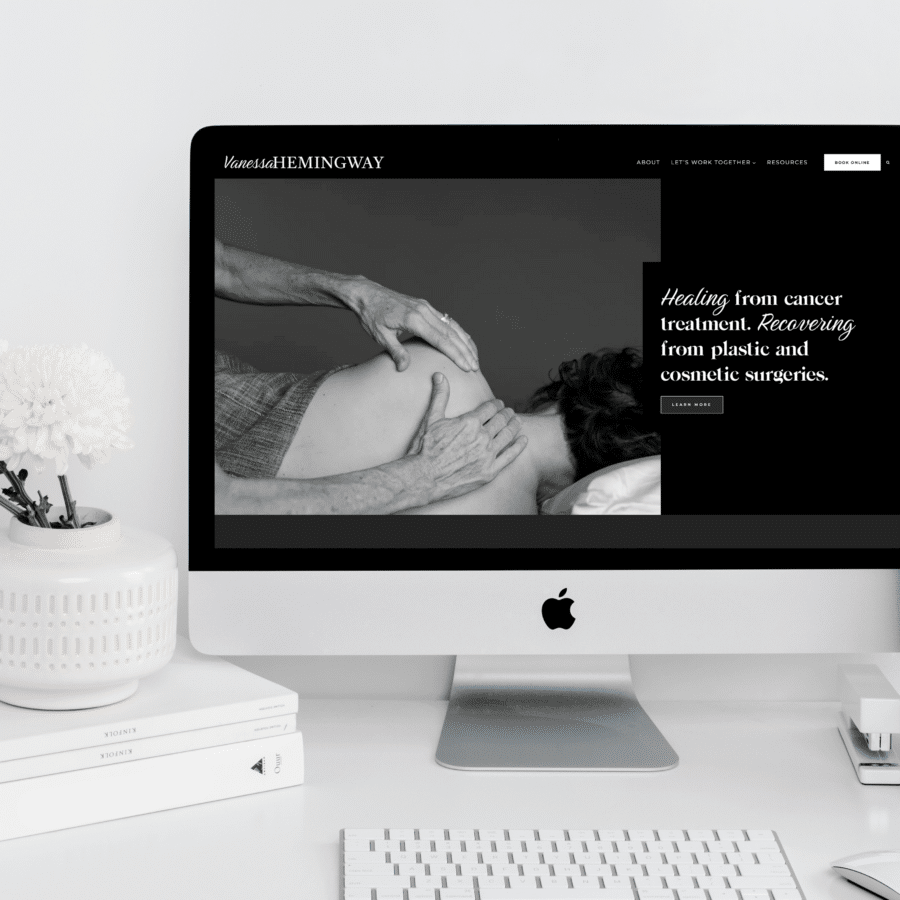 My favorite things about this project:
The photography is amazing! Shout out to Devi Pride for the beautiful photos

I love the unique font in the headings. I was happy that Vanessa fell in love with it too.

The home and about pages gave me the opportunity to showcase the photography.
Working with Vanessa was so much fun!
Nice words from Vanessa:
When I started working with Thauna to design my website, I had only a vague idea of what I wanted. Right away Thauna offered me some questions and a few assignments to help me delve deeper into the look, feel and content I was striving for. Within a very short period of time, with Thauna's light touch kindly steering me, I found inspiration for my vision. Thauna then took my ideas and transformed them into art. I am thrilled with how my site turned out, and I also deeply appreciate the help she's given me to begin to own it for myself so that I can make edits to my text and feel I have some command over my evolving needs of the site. Thank you, Thauna. Such a pleasure to work with you!
Vanessa, Vanessa Hemingway
Check out other custom WordPress projects in my portfolio.
Are you ready for a website you love?
If you are ready for a redesign or your first website and the thought of figuring it all out makes your heart race a bit and leaves you overwhelmed I got you covered! My specialty is taking your wishlist and blending your personality with the functionality you need for an online presence that makes you proud. Let's create a stunning first impression and a website where you can stand out online.