10 Holiday Gift Ideas for your Favorite Techie
How is it time to do Christmas shopping already? Have you already started? If you have a techie in your life or someone that just loves cool gadgets, I have a list for you!
Here are 10 techie gifts ideas that include some fun gadgets and accessories to bring a smile to your favorite techie's face this holiday season.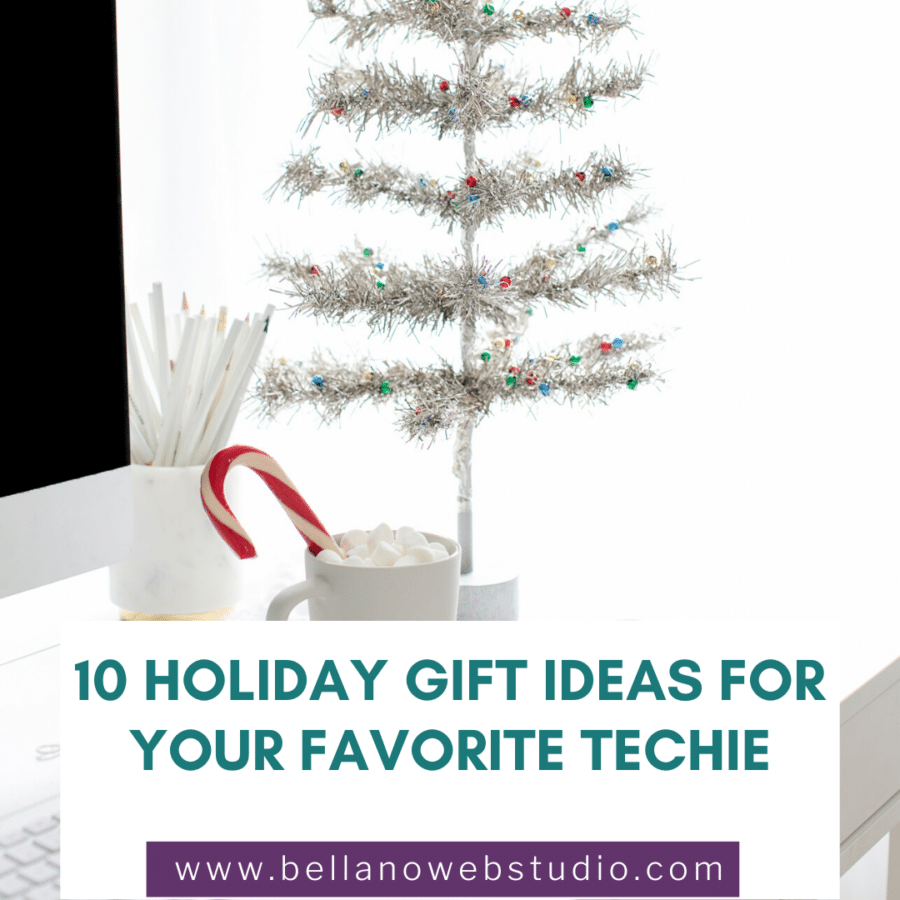 Retractable Phone Stand
I don't have this yet, but it's on my list. It looks great for recording Instagram stories, reels, and going live. I like that you can turn it to capture your desktop and think it would be great for showing my work on an iPad or making those cooking videos that I always want to create.
Bamboo Laptop Desk/Breakfast Tray
Not exactly tech but every techie could use a beautiful laptop desk for those cozy evenings working on the couch. Or weekend mornings working in bed. Also doubles as a breakfast tray to reward yourself.
Bluetooth Keyboard
How cute is this pink rechargeable Bluetooth keyboard?? It has space to hold your phone or iPad and can switch with the click of a button between 3 devices. That is pretty cool for our multi-device home. I guess I could share it with my husband. 🙂
Back & Neck Massager
After a long day at the computer or smaller devices "tech neck" can ruin your evening. Refresh for 20 minutes with this massager when you log off for the day. Or keep it at your desk for times when your back needs a little TLC.
Happy Light
Spending long days at your desk when the days are short on sunshine can leave your favorite techie yearning for an extra boost of light. This full-spectrum light can improve mood and help to chase away the winter blues. I love mine.
Roomba
Would your techie rather work than vacuum? This techie would! One of my favorite things is working and listening to the sound of my Roomba clean the house for me. Take that chore off the list! This is hands down my favorite gift from last holiday season.
GoDonut
We are always needing something to prop up our devices. Grab a couple of these handy, space-spacing little circles, for the office and around the house. Go the extra step and get one to match their business branding colors.
Vintage Bluetooth Speaker
We spend a lot of time at our desks being creative and it's just fun to have a few gadgets that are as cute as they are functional. This cute little pink speaker is on my list.
Lava Lamp
My lava lamp is my favorite random item on my desk. If your techie is into a retro vibe this is a fun accessory.
Ring Light with Stand
Good lighting makes all the difference and ring lights are becoming a necessity from zoom calls to video creation. Whether your techie is on Instagram, TikTok, or building a YouTube channel a tripod with a good light will be a welcome addition to the toolbox.
Give their business a gift with a new website!
Gift your favorite small business owner with a brand-new website or an upgrade of their current online space. Book now for the first quarter of 2023 and I will send you a gift certificate you can put under the tree. Check out the services page to choose the right package. If you have any questions contact me here.
Happy shopping!
*Disclosure: This post contains affiliate links and I may earn a small commission when you purchase through my links, at no additional cost to you. I only recommend products I use myself. All opinions expressed here are my own. 
Are you ready for a website you love?
If you are ready for a redesign or your first website and the thought of figuring it all out makes your heart race a bit and leaves you overwhelmed I got you covered! My specialty is taking your wishlist and blending your personality with the functionality you need for an online presence that makes you proud. Let's create a stunning first impression and a website where you can stand out online.